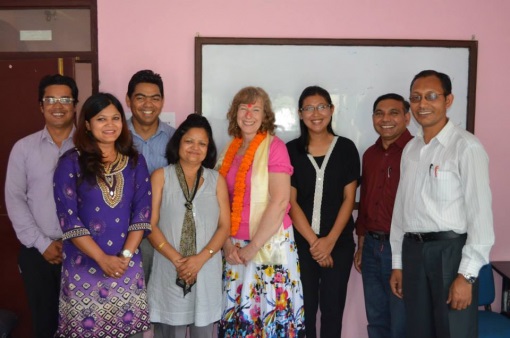 PDRC Welcomes L4C Volunteer
Kathmandu June 12, 2013:The Professional Development and Research Center (PDRC) welcomes Jennifer Leonard from Toronto, Canada as its new Marketing and Communication Advisor. During her 3 week tenure at the PDRC, Jennifer will be developing the marketing and promotional materials to facilitate the access of Dalit in education opportunities and help to strengthen the role of PDRC as advocacy and resource organization.
Jennifer possesses more than two decades of Public Relations experience in various sectors from banking to government. Currently, she is stationed as the Program Coordinator of the Public Relation Advance Diploma Program at Humber College in Toronto, Canada.  Jennifer is a skilled professional who comes to the PDRC through the "Leave for Change" program operated in Nepal by the Canadian NGO, CECI (Centre for International Studies and Cooperation). "Leave for Change" has a mandate to send working, skilled professionals to placements at NGOs in developing countries to build the capacity of local staff.
PDRC is all set to establish a more polished and professional strategic internal and external communication and promotional plans within the span of Jennifer's stay.